Traditional values,
modern botanical medicine

Omisimâw

Omisimâw (ohm-sim-ow)
Cree for oldest daughter/sister

Omisimâw Wellness is an expression
of generations of tradition, knowledge,
and reciprocity and a way to reclaim
ancestral knowledge and way of life.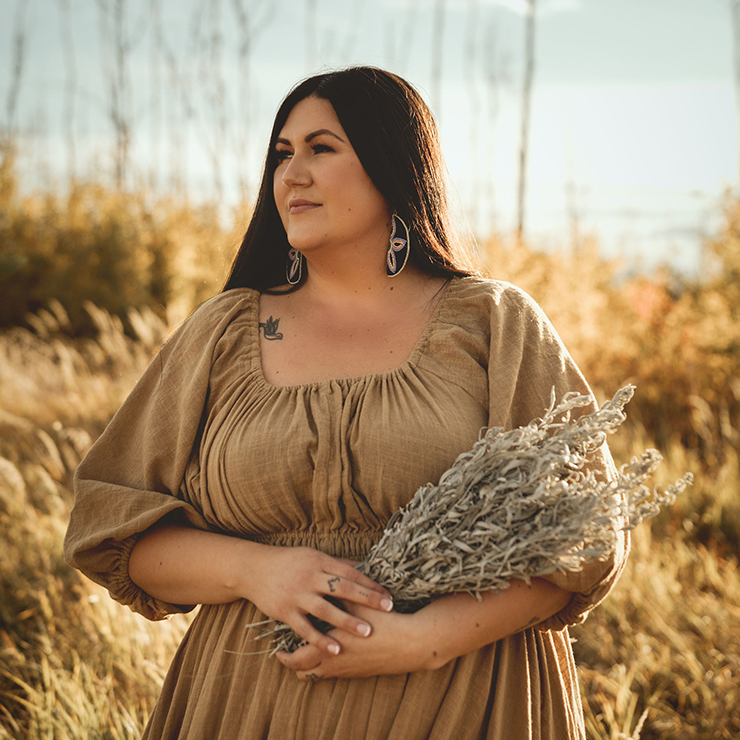 Omisimâw Wellness
Our botanical wellness products are crafted intentionally in ceremony and relationship with māmawi-okāwīmāw (Mother Earth) to connect people to the land through the use of local plants, botanicals and aromatherapy. Each medicine is crafted intentionally and slowly. Practicing intentional herbal medicine is being in relationship with each plant and listening. Slow. Mindful. Meaningful. Omisimâw Wellness is solely owned and operated by Sheena Bradley. Sheena is certified herbalist, advanced clinical herbal student and birthworker.
Read more
Curated in nistawâyâw
Our Ingredients
Our ingredients are gathered and grown in relationship with the earth and our plant kin. All local botanicals are harvested with reciprocity, respect, and permission from them and the lands. We also have created meaningful relationships with small, local herb growers and small scale suppliers in (so called) Canada to help provide us with organic grown and ethically tended botanicals to add to our bundle.
Shop Now
How can Omisimâw Wellness help?
Botanical Medicine: Omisimâw Wellness offers self-care products and other herbal remedies featuring seasonal medicines to support emotional, physical, mental and spiritual balance. Everything is lovingly crafted with intention and reciprocity, using the finest ethically-sourced organic ingredients and traditionally harvested local botanicals.

Herbal Consultations: Work directly with Omisimâw Wellness to develop a personalized plan to use herbal remedies and traditional medicines to support your emotional, physical, mental, and spiritual health. Coming 2023.
Read more
CUSTOMER LOVE
"Omisimâw Wellness is curated out of generations of tradition, knowledge, and whole lot of love. Sheena's dedication to her culture and community are obvious in every product she makes, as well as the service she provides"
— Maddie A.
Blog Posts
Our communities have been collectively feeling a deep sense of sadness, and grief. It seems there is just one thing after the other. Last night I was feeling so defeated and tearful.
Read more
Since time immemorial we have birthed our babies in community, surrounded by our Grandmothers, our Aunties and helpers. A community of support working together. 
Read more
Get on the list.
Subscribe to get exclusive access to products, services, discounts and more!